South Region Race Regulations 2022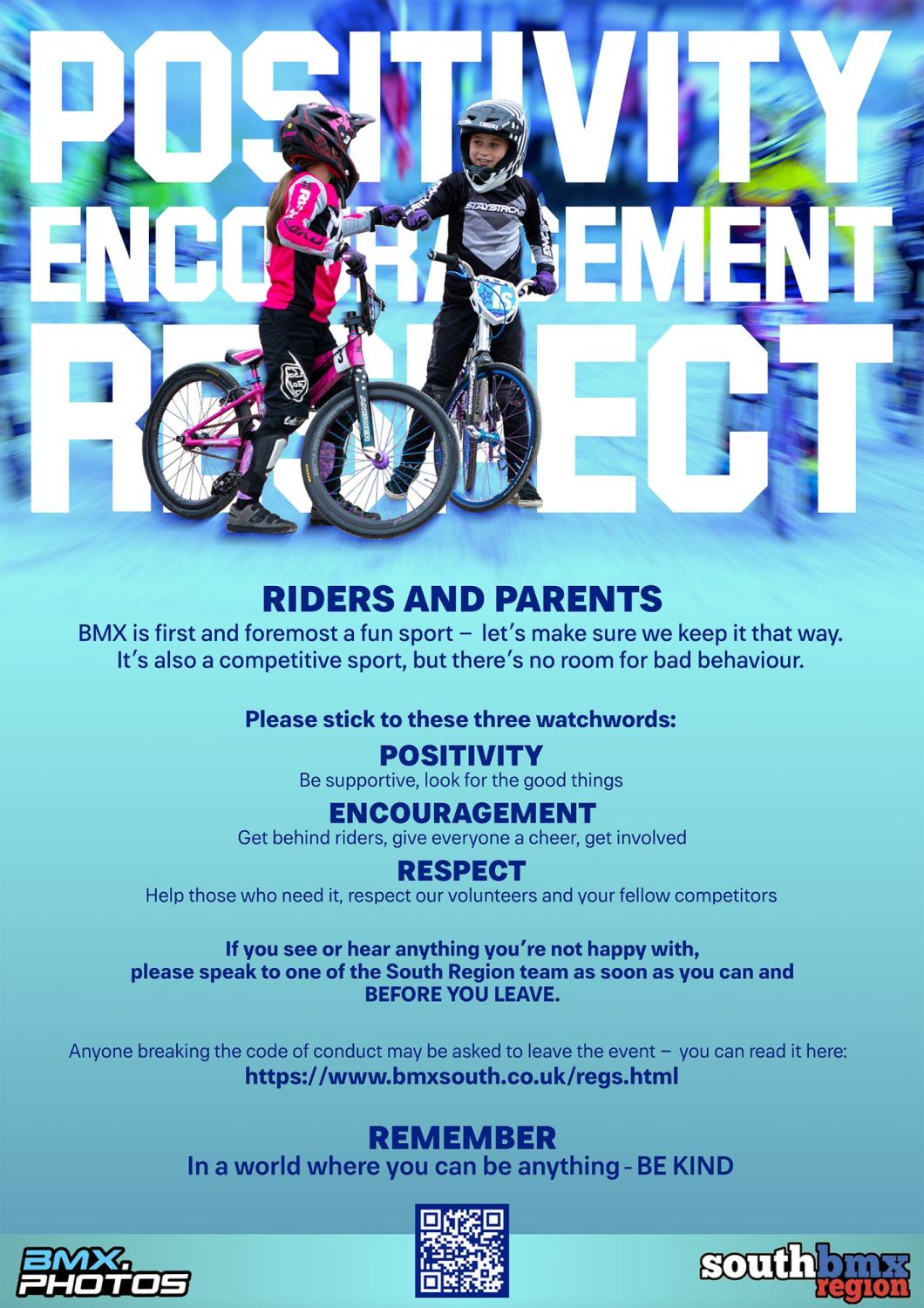 WELCOME TO THE SOUTH REGION 2022 RACE SERIES
DATES AND VENUES
ONLINE REGISTRATION
ENTRY FEES
PRIZE MONEY AND AWARDS
TRANSPONDERS
CLASSES/CATEGORIES
PRACTICE
MANDATORY SIGN-IN
ACCESSING SQORZ (RACE DAY INFORMATION)
RACE DAY SCHEDULE
COMMUNICATIONS
SERIES RULES
SERIES POINTS
RANKING POINTS
POINTS TABLE
BRITISH CHAMPIONSHIPS 2022
PARKING
CATERING
VOLUNTEERS AND CODE OF CONDUCT
SOUTH REGION ZERO TOLERANCE STATEMENT
FINALLY ….
WELCOME TO THE 2022 SOUTH REGION RACE SERIES
South Region BMX forms part of the British Cycling BMX Region structure and exists to provide an umbrella association that encourages its member clubs to promote the sport of BMX within its area and to run a Regional race series to enable their riders to compete in the British Championships.
The Regional Series also provides a stepping stone for riders to race at a National level.
The region is run by a group of elected volunteers who work with host clubs to provide what we feel is the best Regional standard racing in the UK.
RACE DATES AND LOCATIONS
ROUND 1 – 06/03/2022
ANDOVER BMX CLUB
West Portway,
Andover
SP10 3LF
ROUND 2 – 27/03/2022
CYCLOPARK
The Tollgate,
Watling St,
Gravesend
DA11 7NP
ROUND 3 – 17/04/2022
MERTON SAINTS BMX CLUB
St Marks Acadamy
Merton
CR4 1SF
ROUND 4 – 01/05/2022
GOSPORT BMX CLUB
Grange Rd,
Gosport
PO13 8AS
ROUND 5 15/05/2022
HAYES HAWKS BMX CLUB
Dawley Rd,
Hayes,
Middlesex
UB3 1EJ
ROUND 6 - 01/06/2021
PECKHAM BMX CLUB
Wells Way,
London
SE5 0PX
ROUND 7 – 26/-6/2022
RUNNYMEDE ROCKETS BMX CLUB
Addlestone Moor
Addlestone
KT15 2QL
ROUND 8 - 10/07/2022
BOURNEMOUTH BMX CLUB
Iford Lane,
Bournemouth
BH6 5NF
ROUND 9 – 07/08/2022
BROOMFIELD BIKERS BMX CLUB
Community Park,
Ford Road,
Herne Bay
CT6 7AD
SOUTH CHAMPS/TONY LUCKHURST MEMORIAL EVENT - 18/09/2022
RUNNYMEDE ROCKETS BMX CLUB
Addlestone Moor
Addlestone
KT15 2QL
ONLINE REGISTRATION
Registration for South BMX events is via British Cycling's online registration system only.
There is no telephone, e-mail, social media message or on the day registration.
Online registration will close on the Thursday before the race at 23.55pm – no entries will be accepted after the cut-off time.
If you do not contact the Region to withdraw from the event before sign-in closes on the day there will be no refund or entry roll-over.
ENTRY FEES
16 & Under £15.00
17+ £16.50
Second bike £10.00
Male Payback £18.00
PRIZE MONEY AND AWARDS
Male Payback 1st £160, 2nd £80, 3rd £50, 4th £30 (5th-8th £20 if over 12 riders)
Female Payback 1st £160, 2nd £80, 3rd £50, 4th £30 (5th-8th £20 if over 12 riders)
Series awards will be presented to all riders completing 5 rounds from 9 planned to be held in 2022.
Runner Up trophies awarded to 12 and under age groups only.
TRANSPONDERS
The South Region use MyLaps transponders along with Sqorz race software to manage our events. Each rider must have an up-to date transponder for each class of BMX they race on.
It is the riders responsibility to ensure their transponders are fully working and activated and correctly attached to the forks on the left hand side.
New transponders can be purchased from www.hssports.co.uk
Subscriptions can be purchased via www.mysqorz.com
THERE ARE NO HIRE TRANSPONDERS AT SOUTH RACES
CLASSES/CATEGORIES
When entering this series, enter the class you will ride in this year (2022). Categories are based on the year 2022 – minus the rider's year of birth. (e.g. if you are male & born in 2006 then you should register in Male 16).
MALE

FEMALE

Expert Male 6 & Under

Expert Female 6 & Under

Expert Male 7

Expert Female 7-8

Expert Male 8

Expert Female 9-10

Expert Male 9

Expert Female 11-12

Expert Male 10

Expert Female 13-14

Expert Male 11

Expert Female 15-16

Expert Male 13

Expert Female 17+ (Payback)

Expert Male 14

Female 30+ Open Class (20" & 24")

Expert Male 15

Expert Male 16

Expert Male 17-29

Payback Male

Expert Male 30+ (Masters)

Expert Male 40+ (Veteran)

Expert Male 50+ (Grand Vets)

Cruiser Male 9-12

Cruiser Female 9-12

Cruiser Male 13-14

Cruiser Female 13-16

Cruiser Male 15-16

Cruiser Female 17-29

Cruiser Male 17-29

Cruiser 30+

Cruiser 40+

Cruiser 50+
PRACTICE
Practice will take place from 9am until 11am – the pens will be split into 12 and under and 13 and over.
MANDATORY SIGN-IN
Sqorz Sign-in will be completed through practice
All riders must ride a minimum of 1 lap in practice on each bike they are competing on.
Riders, parents/guardians should check oursqorz.com to confirm their rider has signed in correctly. A rider not signing in by 10.30am will be considered a "no show" and will be removed from the entry list.
"parents/guardians accept and agree to abide by the terms and conditions of entry and the race regulations once their child has signed on to race by completing a practice lap."
Pre-sheets and Moto sheets will only be published on the Our Sqorz phone app.
RACE DAY SCHEDULE*
9.00am -10.30am RIDER SIGN IN (via practice laps)

9.00am – 11.00am OPEN PRACTICE
(11.00am – 11.15am PRO SECTION PRACTICE WHERE APPLICABLE)
11.00am – 11.30pm LUNCH BREAK (Track closed)

11.30pm - 17.00pm MOTOs, QUARTERS, SEMI FINALS & FINALS
* This is subject to change if necessary
COMMUNICATIONS
The main form of communication of any South Region BMX series events will be via the South Region BMX Facebook page https://www.facebook.com/south.regionbmxor the website at www.bmxsouth.co.uk
The e-mail address to forward all questions to is [email protected]
SERIES RULES
Expert riders must hold a Silver level membership with British Cycling. No valid membership = No race.

All riders are required to have the following equipment for racing (as a minimum); a full face one piece, peaked helmet; long sleeved tear resistant top; race specific gloves; race specific pants, or shorts with full length shin pads (no jeans or tracksuit bottoms).

Number Plates

All riders with a 2021 National ranking should use that number otherwise use the last three digits of their BC membership number.

Please note that number plates are the responsibility of the rider to organise before the race – there will be NO spare number plates provided by race admin.

Regional plates may be used if preferred.

Number clashes will be dealt with on the day

Riders MUST use the same number for the whole series

Riders MUST use side plates

RIDING UP
Series Rules - 4 (amended) RIDING UP
For the 2022 season riders may ride up* by exception only, on the recommendation of their club coach, with the following criteria as a guide: - Top 3 National ranking - British Champion 01 - World or Euro plate (top 8 finalist) Any rider who rides up must compete in that age group/category for the entire season.
*Riding up includes Females opting to ride in a Male category, and older (e.g. 30+) riders returning to a younger category.
A rider wishing to request to ride up should submit their request to their club coach who will contact the regional Talent Development lead coach
The youngest category for riders using clipless pedals is 13 years or above.

Series points will be awarded for overall position in class. Only the top 16 will compete in two finals - A final & B final (where there are enough riders). There are no finals for riders outside of the top 16.

Riders sharing equal points will be ranked using UCI countback rules.

It is the rider's responsibility to ensure that the club/team details are correct on their BC membership before they register to race.

Where there are less than 4 riders in a category, classes may be merged.

No personal videos can be accepted as proof of a riders finishing position.
SERIES POINTS, RANKING POINTS & POINTS TABLE
The South region will follow the new points structure used at the BC National Series where points are awarded for a riders overall finishing position. (See the points page for details)
FIRST AID
Professional, qualified First Aid support is provided by the Region to assist with any incidents as first responders on site.
Along with the South Region team's trained welfare volunteers, any decision over whether a rider is able to race or able to continue racing following an incident is down to their professional judgement in line with existing UCI and British Cycling guidance.
BRITISH CHAMPIONSHIPS 2022
Riders must compete in a minimum of 5 regionals in their home region (3 races for a second bike entry) – these races must be competed in full.
2022 South Region Brits shirts (details to follow) must be worn this year and plates will be provided by the Region.
PARKING
Where possible parking will be provided by the BMX club hosting a race – please bear in mind that this is not always possible when racing at certain locations. Where parking is made available, please use it. If a club is unable to provide parking, please ensure that you park with consideration to the local residents
The cost of parking will be capped at £3 per car, at any round where parking is available unless local restrictions mean the parking costs are out of our direct control.
CATERING
Where possible if a club is unable to provide basic catering needs (tea, coffee, bottles of water), then an outside caterer will be at a race.
Please be aware that when this is not possible please bring along a packed lunch or picnic and drinks so that you have some form of refreshment with you.
VOLUNTEERS AND CODE OF CONDUCT
The series is run by a core group of volunteers, with lots of club volunteers helping make the series as successful and fun as it is, this is unpaid volunteering. To ensure that this keeps running in this way, please read and take note of the statement below;
"Our volunteers are here to help run a professional, fun and competitive event for you and its important for all those involved at the event to be treated with respect.
In line with British Cycling event guidelines any aggressive, abusive or vilolent behaviour towards or between any volunteers, riders or other parents will not be tolerated under any circumstances.
Anyone behaving unacceptably towards a rider, volunteer or another parent will be asked to leave the eent as this behaviour will not be tolerated and may face disqualification from that particular round.
Any continued further violations of this policy may result in the parent being asked to not participate any further in the Series.
Please notify us on the day of any issues that may have arisen - please don't take them home with you - its better to deal with them at the time.
There is no appeal process.
SOUTH REGION BMX feels very strongly about treating riders, volunteers and others parents with due respect and consideration and non-observance will not be tolerated".